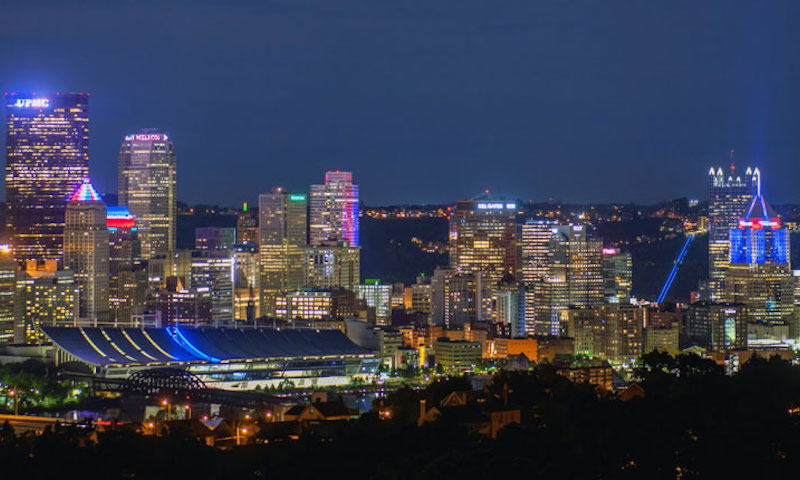 FOR IMMEDIATE RELEASE
June 12, 2020
Contact: Matt Beynon – mbeynon@brabendercox.com, Laura Lebaudy – llebaudy@brabendercox.com
World Trade Center to light up Red, White, and Blue as part of the National Flag Foundation's "National Day of Unity"
41 Cities Will Light Up United In Red, White, And Blue To Mark Flag Day, Honor The Work Of COVID-19 Frontline Workers, and Show Unity Across the Country.
PITTSBURGH, PA – The National Flag Foundation (NFF) today announced the launch of a "National Day of Unity" in coordination with commemorating Flag Day on June 14, 2020 to mark the national symbol that unifies America. In conjunction with affiliates of Building Owners and Managers Association International (BOMA) and support of the American Federation of Labor and Congress of Industrial Organizations (AFLCIO), the NFF will commemorate Flag Day by lighting up buildings in cities red, white, and blue as a show of unity across America during these challenging times.
As part of its role of educating and promoting national unity attendant to the American Flag, the NFF sees this year's Flag Day as unique, and one that can unite all Americans in these historically challenging days. At the same time, NFF looks to honor those who have perished due to the COVID-19 pandemic, as well as the men and women who have served and worked during the crisis to keep America advancing. In addition to lighting cities across America red, white, and blue, NFF asks that all Americans rally together to fly the American flag.
Thus far, 41 cities have confirmed participation, including the World Trade Center in New York, NY, Bank of America Tower in Dallas, TX, and the Wells Fargo Center in Philadelphia, PA. As additional cities are confirmed, they will be added to the list of participants. BOMA Affiliates in the following cities are confirmed to be participating in NFF's "National Day of Unity":
Anchorage, Alaska
Austin, Texas
Baltimore, Maryland
Buffalo, New York
Charlotte, North Carolina
Chicago, Illinois
Cincinnati, Ohio
Cleveland, Ohio
Columbus, Ohio
Dallas, Texas
Denver, Colorado
Detroit, Michigan
Erie, Pennsylvania
Fort Lauderdale, Florida
Fort Smith, Arkansas
Fort Worth, Texas
Houston, Texas
Indianapolis, Indiana
Jacksonville, Florida
Kansas City, Missouri
Las Vegas, Nevada
Louisville, Kentucky
Los Angeles, California
Memphis, Tennessee
Minneapolis, Minnesota
Nashville, TN
New York, New York
Oklahoma City, Oklahoma
Orlando, Florida
Philadelphia, Pennsylvania
Phoenix, Arizona
Pittsburgh, Pennsylvania
Portland, Oregon
Salt Lake City, Utah
San Antonio, Texas
San Diego, California
San Jose, California
San Francisco, California
Seattle, Washington
St. Louis, Missouri
Tampa/St. Petersburg, Florida
On June 14, 1777, the Second Continental Congress passed a resolution stating that the "flag of the United States be 13 stripes, alternate red and white," and that the "union be 13 stars, white in a blue field, representing a new constellation." 139 years later, President Woodrow Wilson commemorated the anniversary of this resolution, establishing June 14th as Flag Day.
Each year, Flag Day is commemorated by presidential proclamations, regardless of the political affiliation of the officeholder, emphasizing the importance of honoring and maintaining the Flag as our national symbol. To read the resolutions issued by President Barack Obama and President Donald Trump, please click here and here. Senator Pat Toomey (R-PA) has also donated an American Flag that was flown over the U.S. Capitol in honor of Flag Day for display at the NFF new headquarters at the Koppers Tower in Pittsburgh, PA.
About the National Flag Foundation and the "National Day of Unity"
The NFF is a national 501(c)(3) non-profit and non-political foundation dedicated to the American Flag and education concerning same. It is a Pittsburgh, Pennsylvania based national foundation and has been in
existence for over fifty years. It is nationally recognized and has been the subject of recognition by multiple United States Presidents, as well as the United States Senate and Congress.
Click here to view media advisory.