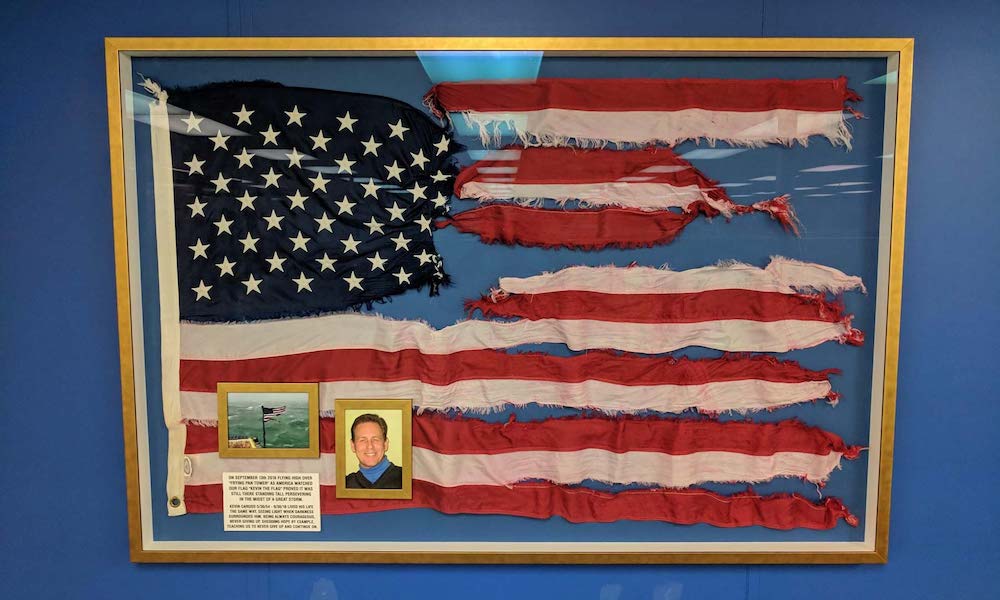 Mark Caruso, like many Americans, watched the Weather Channel extensively in mid-September when Hurricane Florence made landfall. He watched as the storm pummeled the eastern seaboard, especially North Carolina.
One part of the coverage especially caught his eye. As a history buff, he was struck by the live stream of the American Flag perched atop Frying Pan Tower, an old Coast Guard facility that sits 34 miles off the North Carolina coast. The wind and rain from the eye wall that sat over the area for about 36 hours was ripping the flag apart, but it stood strong as the slow-moving storm came and went, leaving nothing but destruction behind.
He also noticed that during the 24/7 live feed, people who were also following the plight of the Frying Pan Tower were referring to the flag as "Kevin." He instantly made a connection.
Caruso's brother, Kevin Caruso, had been battling prostate cancer for four years, but passed away on September 30. He lived in North Carolina and fought a noble battle with cancer. Caruso and his brothers, who work in Cincinnati, Ohio, immediately saw the similarities between the flag Kevin and their brother Kevin.
They found out on September 28, two days before their brother's eventual passing, that the flag that was shredded but survived was going up for auction on eBay. It was a no-brainer for them to get involved in the bidding to honor their brother. The bidding started the day Kevin passed away.
"The inspiration and impact that he gave so many was just like that flag was for us here at home," Mark said. "When we saw it was up for auction, then seeing the video again of the flag flying so strong and persevering, saying it wasn't going there, with people using the name 'Kevin,' that resonated with me."
So, they put in a bid for the flag. But so did more than a handful of others when the bidding started at 10 dollars. When it was all said and done, 25 different people placed a total of 96 bids before the auction ran out and the price was set at $10,900. When the dust settled, the Caruso's won the auction in honor of their fallen brother. All the money raised by the sale went to the American Red Cross and its relief efforts following the hurricane.
Now, the flag is professionally framed and sits in the office at Caruso Logistics in Cincinnati. Mark says that if the flag can inspire anyone to stand up and battle through whatever problems they are dealing with, it was worth it to them.
But all said and done, it is in honor of their brother, who persevered through so much during his battle with cancer.
"It stands for a lot," Mark said. "He was the one that could always see light in the middle of the storm, always battling and continuing to live on. That's the inspiration that he has given to myself, his children and his grandchildren."
By Andrew Albert